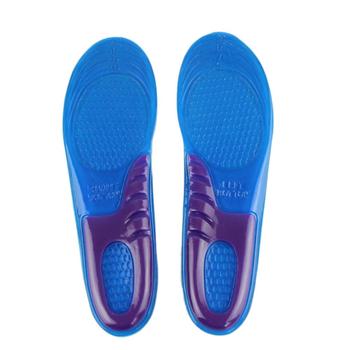 Overview
Plantar fasciitis is the most common cause of heel pain. It can be caused by inadequate or inappropriate footwear, weight gain, or a particular exercise or activity. It is common for plantar fasciitis symptoms to affect only one foot at a time. Treatment focuses on reducing pain and inflammation. Chronic (long-term) plantar fasciitis can lead to a build-up of bone (a "spur") at the point where the plantar fascia connects to the heel bone. For this reason plantar fasciitis is sometimes referred to as "heel spur syndrome".
Causes
Plantar fasciitis is common in sports which involve running, dancing or jumping. Runners who overpronate where their feet roll in or flatten too much are particularly at risk the plantar fascia is over stretched as the foot flattens. A common factor is tight calf muscles which lead to a prolonged or high velocity pronation or rolling in of the foot. This in turn produces repetitive over-stretching of the plantar fascia leading to possible inflammation and thickening of the tendon. As the fascia thickens it looses flexibility and strength. Other causes include either a low arch called pes planus or a very high arched foot known as pes cavus. Assessing the foot for plantar fasciitisExcessive walking in footwear which does not provide adequate arch support has been attributed. Footwear for plantar fasciitis should be flat, lace-up and with good arch support and cushioning. Overweight individuals are more at risk of developing plantar fasciitis due to the excess weight impacting on the foot.
Symptoms
The pain associated with plantar fasciitis is typically gradual in onset and is usually located over the inner or medial aspect of the heel. Occasionally, the pain will be sudden in onset, occurring after missing a step or after jumping from a height. The pain is commonly most severe upon arising from bed in the morning, or after periods of inactivity during the day. Thus, it causes what is known as "first-step pain." The degree of discomfort can sometimes lessen with activity during the course of the day or after "warming-up", but can become worse if prolonged or vigorous activity is undertaken. The pain is also often noted to be more severe in bare feet or in shoes with minimal or no padding at the sole.
Diagnosis
Plantar fasciitis is one of many conditions causing "heel pain". Some other possible causes include nerve compression either in the foot or in the back, stress fracture of the calcaneus, and loss of the fatty tissue pad under the heel. Plantar fasciitis can be distinguished from these and other conditions based on a history and examination done by a physician. It should be noted that heel spurs are often inappropriately thought to be the sole cause of heel pain. In fact, heel spurs are common and are nothing more than the bone's response to traction or pulling-type forces from the plantar fascia and other muscles in the foot where they attach to the heel bone. They are commonly present in patients without pain, and frequently absent from those who have pain. It is the rare patient who has a truly enlarged and problematic spur requiring surgery.
Non Surgical Treatment
The good news is that plantar fasciitis is reversible and very successfully treated. About 90 percent of people with plantar fasciitis improve significantly within two months of initial treatment. If your plantar fasciitis continues after a few months of conservative treatment, your doctor may inject your heel with steroidal anti-inflammatory medications (corticosteroid). Cortisone injections have been shown to have short-term benefits but they actually retard your progress in the medium to long-term, which usually means that you will suffer recurrent bouts for longer. Due to poor foot biomechanics being the primary cause of your plantar fasciitis it is vital to thoroughly assess and correct your foot and leg biomechanics to prevent future plantar fasciitis episodes or the development of a heel spur. Your physiotherapist is an expert in foot assessment and its dynamic biomechanical correction. They may recommend that you seek the advice of a podiatrist, who is an expert in the prescription on passive foot devices such as orthotics.
Surgical Treatment
The most dramatic therapy, used only in cases where pain is very severe, is surgery. The plantar fascia can be partially detached from the heel bone, but the arch of the foot is weakened and full function may be lost. Another surgery involves lengthening the calf muscle, a process called gastrocnemius recession. If you ignore the condition, you can develop chronic heel pain. This can change the way you walk and cause injury to your legs, knees, hips and back. Steroid injections and some other treatments can weaken the plantar fascia ligament and cause potential rupture of the ligament. Surgery carries the risks of bleeding, infection, and reactions to anesthesia. Plantar fascia detachment can also cause changes in your foot and nerve damage. Gastrocnemius resection can also cause nerve damage.